Innovation park for "Shanghai International Automobile City": PEM Motion collaborate with "Advanced Automotive Academy" from China
Press Release
Advanced Automotive Academy (AAA) from Shanghai, China, and PEM Motion from Aachen, Germany, have launched an in-depth cooperation on "the integration of innovative hardware and software", aiming to combine internationally leading innovation resources, technologies and solutions together with industry applications. Relying on the platform and industrial advantages of the AAA's strategic partners, Shanghai International Automobile City and Shanghai Jiading Tongji Science and Technology Park, both parties will jointly contribute to the transformation of China's automobile mobility industry. To this end, PEM Motion and AAA signed a Memory of Understanding for cooperation in a cloud signing ceremony.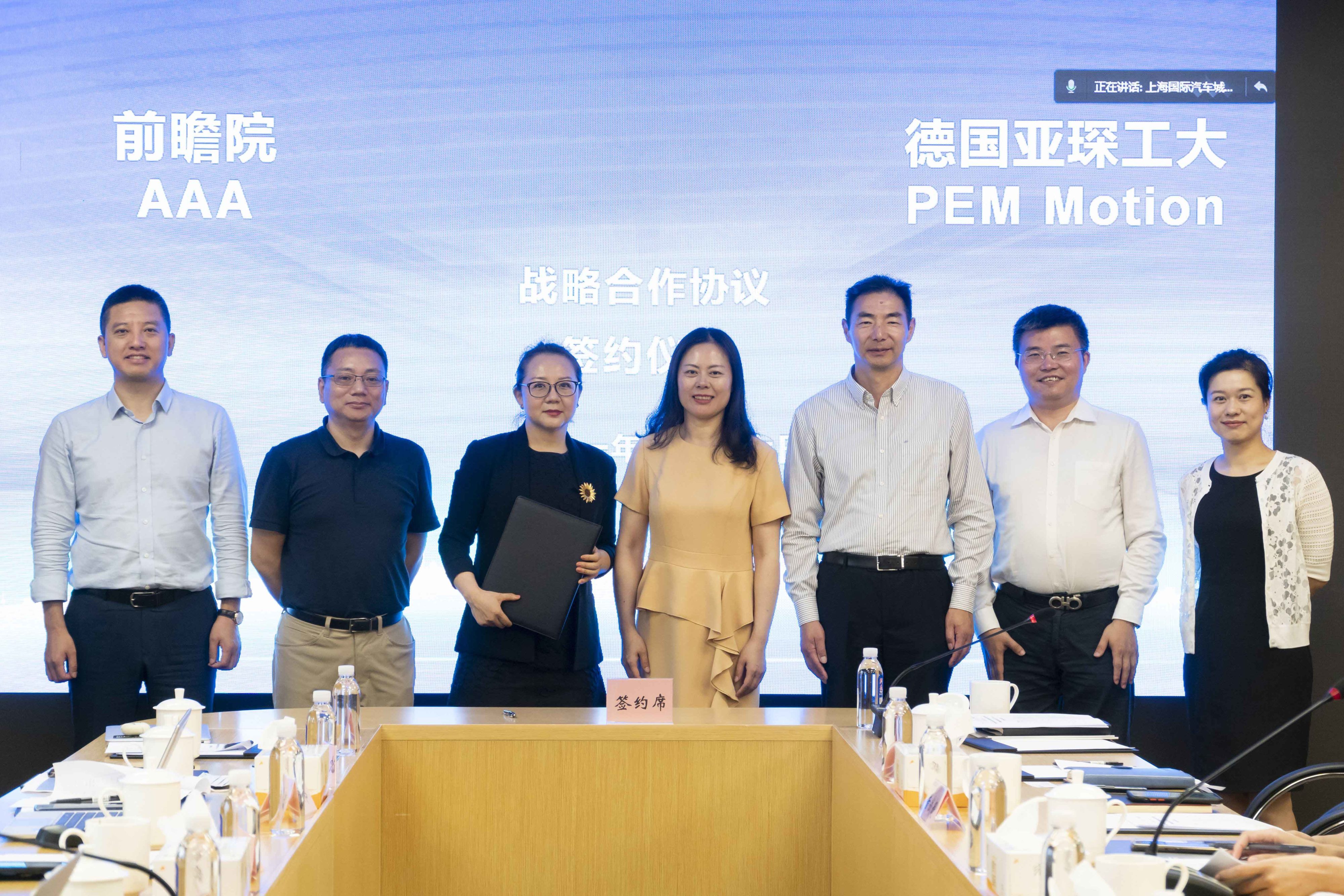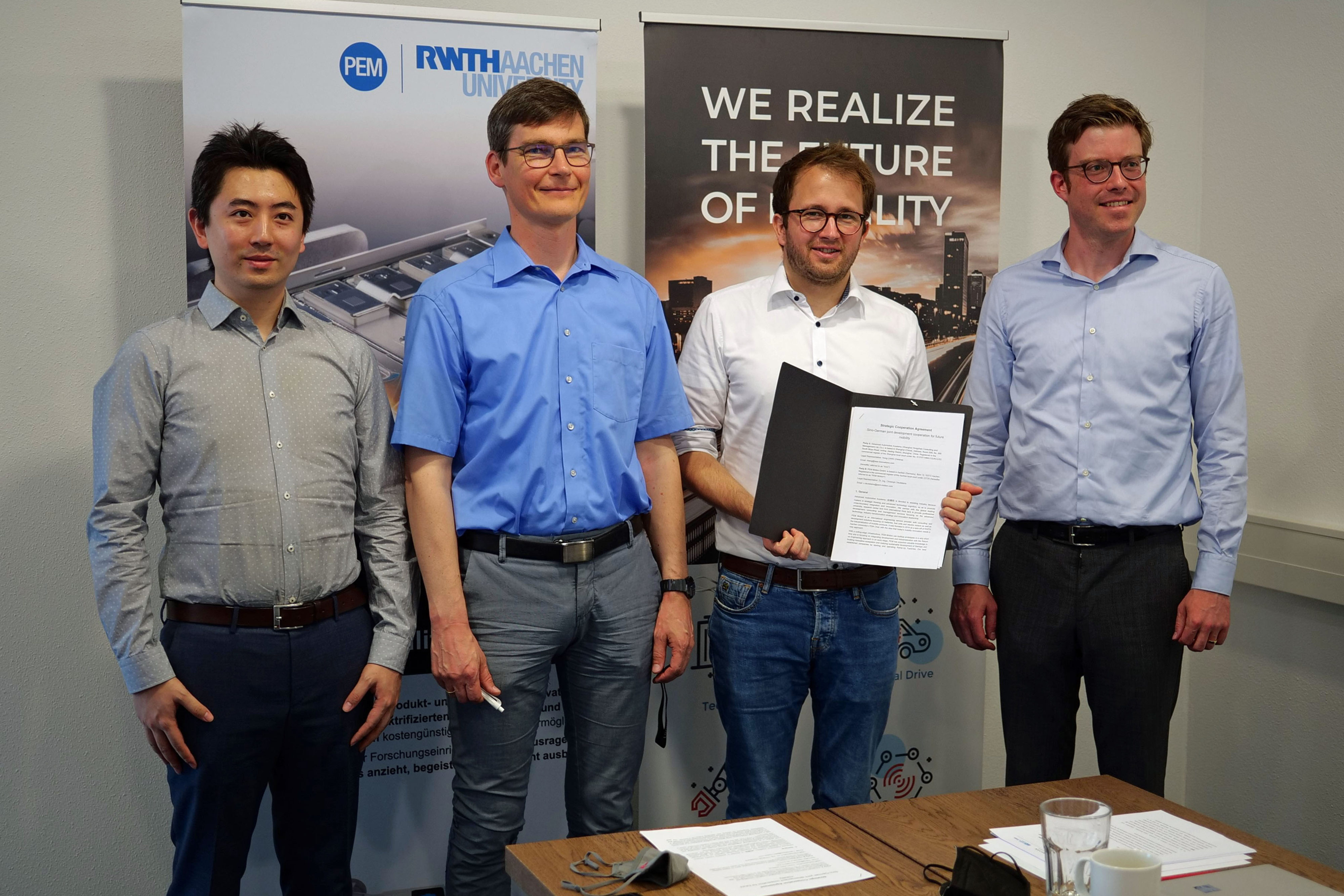 PEM Motion will support the conception and construction of the "Shanghai Jiading Tongji Science and Technology Park" with its worldwide experience in setting up Ramp-up factory eco-systems. Furthermore, PEM Motion is set to help by providing engineering consulting services for e-mobility companies in China, and assist them with solutions to explore the European market, as well as providing solutions for e-mobility enterprises from Europe and the U.S. which would like to explore the Chinese market. In addition to that, PEM Motion is responsible for developing technical training projects based on industry needs. With the in-depth transformation of China's mobility industry, more and more cross-industrial technologies and new players have joined to seek new opportunities. "For our vision of sustainable future mobility we combine theory and practice, bringing together key partners along the value chain to industrialize innovations efficiently and quickly", said professor Achim Kampker, partner of PEM Motion and head of the "Chair of Production Engineering of E-Mobility Components" (PEM) of RWTH Aachen University. "With our experience of implementing the largest e-mobility fleet in Europe with StreetScooter and Deutsche Post DHL, we are now helping other companies and regions around the world to electrify products and mobility."
"We are lucky to have caught up with the greatest technological revolution since the birth of the car," said founder and president of Advanced Automotive Academy, Ms. Liang Hong at the online ceremony for the signing of the Memorandum of Understanding that took place on June 16th. "AAA has been involved in the automotive industry for 20 years, and we believe that software alone cannot define the car." According to Hong, the in-depth integration of innovative hardware and software is imperative. "This will not only promote the competition and cooperation between traditional and new cross-industrial enterprises, but also put forward new requirements and challenges for the further development of intelligent and innovative industrial parks."
"Shanghai International Automobile City is located at the gateway of the Yangtze River Delta. It has rich R&D resources as highland of the entire Chinese automobile industry," said Ms. Pan Xiaohong, General Manager of Shanghai International Automobile City (Group) Co., Ltd. "PEM Motion and Advanced Automotive Academy will help us build a world-class automotive industry center." According to Mr. Rong Wenwei, Executive Deputy Director of the "Jiading Tongji University Science Park" construction office, the park will establish an innovation ecology linking universities, scientific research institutions, industries, and markets, and empowering them for transformation. "Based in Jiading and facing the world, we aim to become a leading science and technology innovation platform, a gathering place for world-class high-end talents and a cluster of leading technology industries."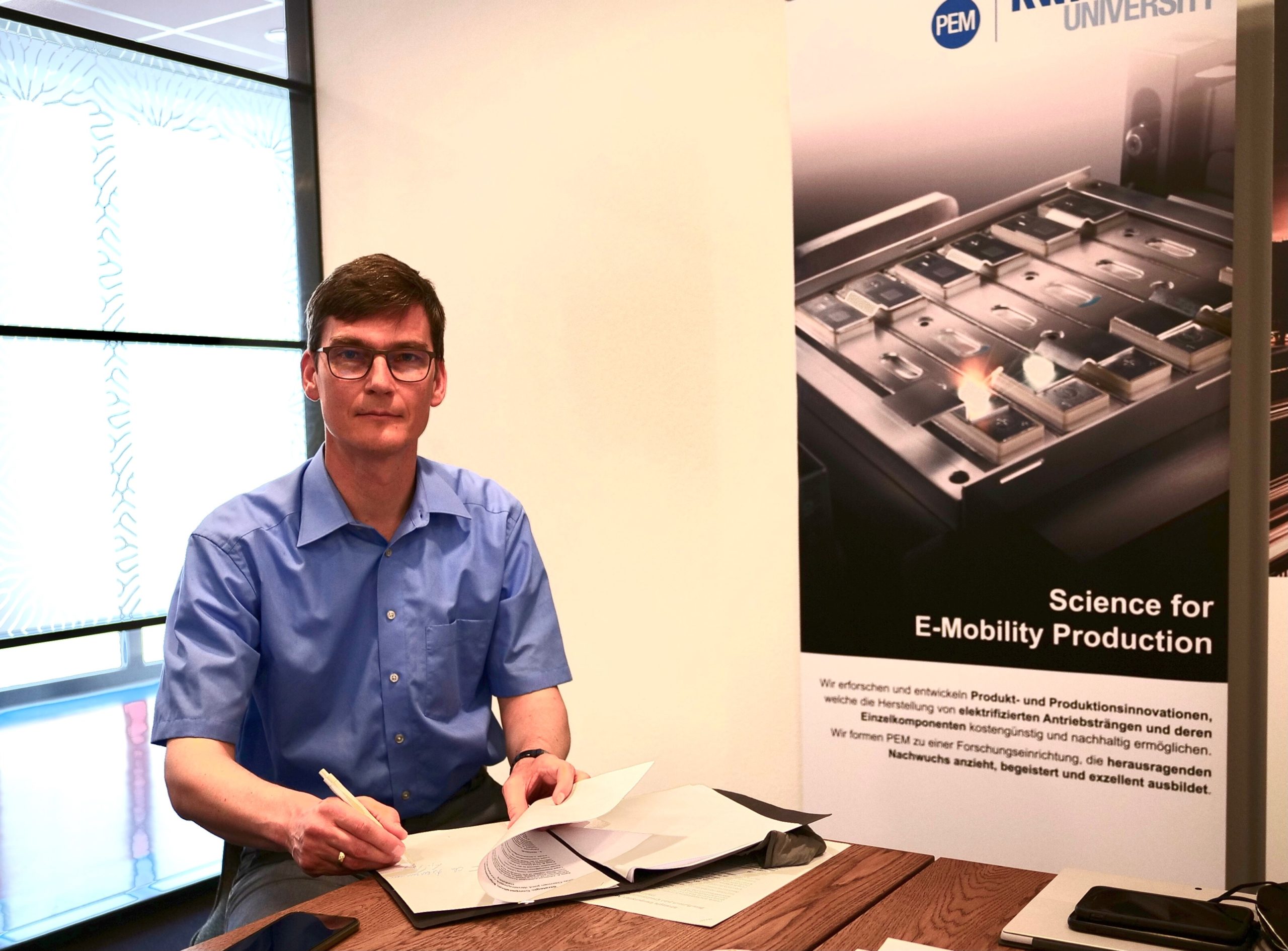 Numerous other industrial park leaders as well as executives from OEM, core suppliers, technology companies and partners of PEM Motion witnessed the signing ceremony online and offline. During this session, Christoph Lienemann from PEM Motion, who has already lived in China for his master's studies at Tsinghua University in Beijing, presented the "Return on Engineering" methodology with the StreetScooter as a prime example. The method combines product development and industrialization conception at an early stage, which significantly reduces development duration and costs, and increase customer value at the same time.
About "Advanced Automotive Academy"
Advanced Automotive Academy |前瞻院 is devoted to assisting industry decision makers in strategic thinking and advanced technology scanning, so as to promote cross-boundary integration and innovation. They partner with the globally leading university, research center and AAA international think tank to provide professional development and consulting services focusing on the advanced technology, industry transformation strategy and innovation leadership, as well as to accurately connect cross-boundary programs based on the industry demand.
About "Shanghai International Automobile City"
The construction of Shanghai International Automobile City (SIAC) was fully started in 2001 under the leadership of the Shanghai municipal government and the Jiading district government, with a planned area of 100 square kilometers. After nearly 20 years of development, the investment in fixed assets has exceeded 100 billion yuan. As an international demonstration city of electric vehicles in Shanghai, China, SIAC owns the high-level vehicle R&D facilities, including the biggest automobile wind tunnel in Asia, the national-level automobile quality supervision & inspection center, the Automobile Institute of Tongji University, the Shanghai EV Data Collection & Monitoring Center, the National Intelligent Vehicle (Shanghai) Pilot Zone, as well as some brand-name and innovative enterprises in the fields of traditional, new-energy and intelligent automobile. Anting is currently the most outstanding automobile city in China for its industry scale, progressive R&D and well-developed automobile industry value chain. The "Auto Tech-Innovation Park" – the first industrial park dedicated to the innovative development of the automobile industry in China – is the best example of SIAC's commitment to creating an open, cooperative and innovative new auto industry ecology.
SIAC has been exploring paths to build a smart city which leads the development direction of China's automobile industry, and strives to be a world-class auto industry center as well as a livable new city in pursuit of a perfect integration of people, vehicle and city.
About "Shanghai Jiading Tongji Science and Technology Park"
Shanghai Jiading Tongji Science and Technology Park is an innovation and entrepreneurship ecological city jointly established by Tongji University, Shanghai International Automotive City (Group) Co., Ltd. and the People's Government of Anting Town, Jiading District of Shanghai. The park is centered on Tongji University, with a perimeter of 30 square kilometers. It will focus on new energy and intelligently connected vehicles, high-end intelligent manufacturing, smart mobility, smart medicine and other industrial fields, and aims to jointly promote the local transformation of scientific research results, the comprehensive collaboration between industry, academy, research and application with Tongji University, and to further strengthen the brand effect and leading role of Jiading Tongji Science and Technology Park, in addition to highlighting the regional innovation service and industrial carrying capacity.
The park strives to become an important science and technology platform of Jiading new city, and a hundred billion-level university science and technology park, as well as to become an important innovation pole of the G2 development belt and the integrated development of the Yangtze River Delta, a gathering hub for world-class talents and a first-class cluster of science and technology industries.
About PEM Motion
PEM Motion is an international engineering service provider with consulting and development solutions focusing on batteries, fuel cells and electric motors as well as the industrialization of mobility products. It was founded in 2014 as a spin-off of RWTH Aachen University's PEM chair with the idea that today's mobility innovation needs a new approach.
With a cutting-edge infrastructure, PEM Motion can build up prototypes in a very short time and is focusing on integrating development and industrialization with the "Return on Engineering" approach at an early stage. PEM has acquired valuable knowledge in building innovative ecosystems and realizing sustainable developments of start-ups and established companies by starting and operating "ramp-up factories". Their best practice is spread all over the world, including Aachen (Germany) and California (USA).
With its strong global network in consulting, engineering, manufacturing, industrialization and production planning, PEM Motion provides its customers and partners a broad range of project solutions. Its spin-off company network "PEM X" has achieved more than 100 million euros in active investments, with e-mobility solutions, urban logistics, investment, and consulting in focus.
Press Contact:
Jennifer Illig
Process Facilitation
j.illig@pem-motion.com
Mobile: +49 1590 1473406